Doug Foster Installation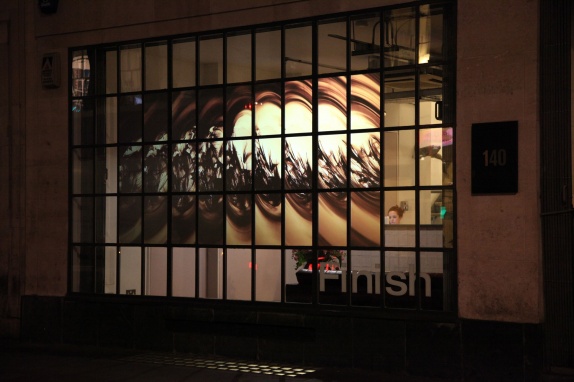 We commissioned ex-commercials director and video artist Doug Foster to produce an original work for our large window frontage on Wardour Street.
Stopping passers-by in their tracks, the installation 'Convolver' takes advantage of the existing grid structure of the window by using a moving image for it that is similarly fractured. Foster divided the central twenty-seven panes into nine horizontally spaced time delay zones so as you walk past the twisting coils of light waft in your wake.
Using lights, movement and animation to create an impressive piece of content is something that we hold very close to our heart. As we worked on the new Finish website which now showcases all our previous projects including how we made them and our inspirations, we wanted to express our passion for moving content elsewhere too. So along came Doug! We'd seen his work before and had been impressed, and he was keen to create an original piece which suited Finish and its surrounds
The film strives to draw attention to the window in a gentle way without imposing itself too much on the busy Soho street. "I like to think it is a bit of calm and reflection in the midst of the madness," said Foster today.
The work was made by filming a variety of lighting effects, liquids and moving textures. The multiple image post production was completed by Jason Watts here at Finish.
To see the entire loop click here
Click here to see the installation in situ on the Finish front window
"Convolver" is the second Windows project by Finish since it moved to Wardour St in 2010. Our first installation featured the work of designer and illustrator Anthony Burrill.